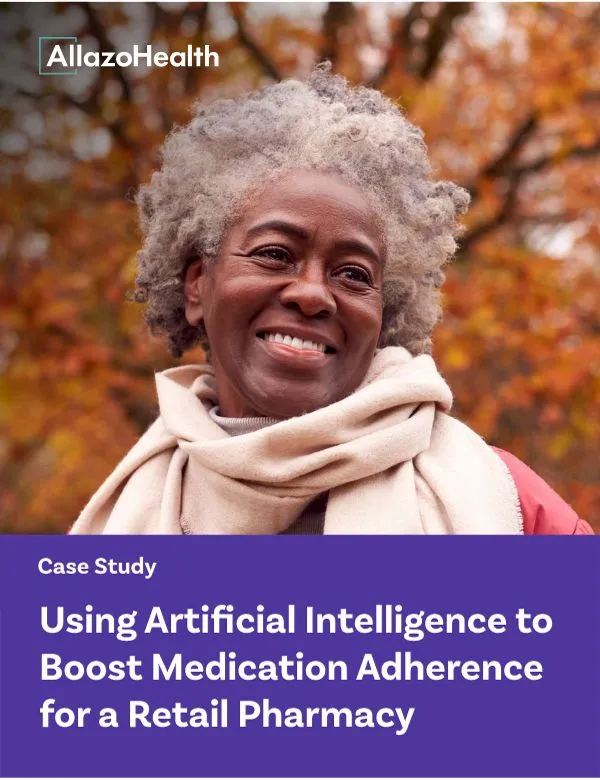 AI-powered strategies have the capability of significantly transforming patient adherence. In this case study, find out how AllazoHealth's AI platform delivered a 5.5% to 9.7% increase in medication adherence for Walgreens by personalizing interventions at the individual level.
The Challenge
Poor Medication Adherence Affects Quality Performance
Medication adherence is a common pay-for-performance metric used to quantify the quality of services provided by pharmacies. Successful medication adherence programs enable retail pharmacy chains and health plans to improve their quality performance on Centers for Medicare and Medicaid Services (CMS) Star Ratings.
The Solution
Using AI to Personalize and Drive More Effective Patient Interventions
AllazoHealth's AI was used to predict patients' adherence to medications and which interventions would best influence behavioral changes in each individual. The AI platform was designed to continually learn, improve, and optimize its targeting throughout the adherence program.
The Results
AI's Positive Impact on Medication Adherence
Compared to those in the program without any AI-enablement, AI-powered personalization resulted in an 8.6% increase in adherence for diabetes, 5.5% for hypertension, and 9.7% for statins.
Download this free case study to see how AI-driven patient programs reshape medication adherence and contribute to elevated patient care. Fill out the form to get immediate access.
Fill out the form to download the case study