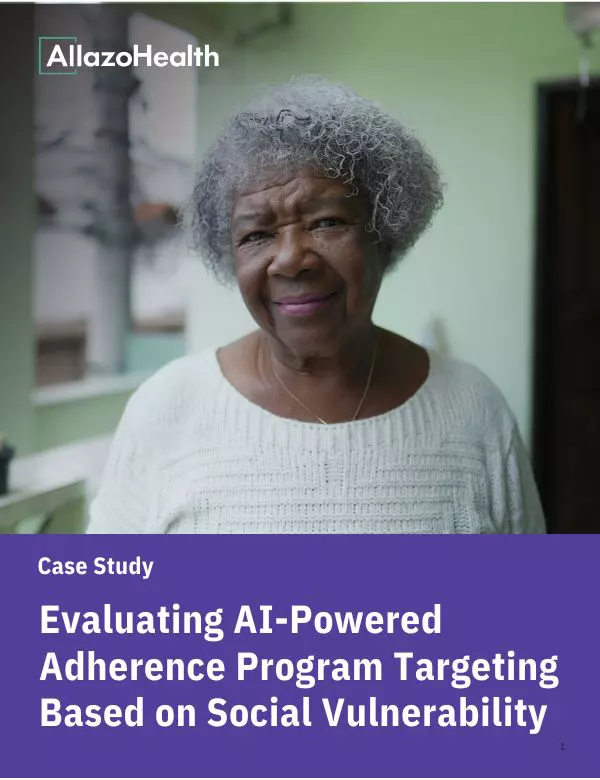 Explore how Walgreens worked with AllazoHealth to deliver AI-driven interventions, positively impacting patients, regardless of their social vulnerability level.
The Challenge
Considerations for AI-Enabled Interventions and Bias
AI-driven adherence programs rely on predictions. One concern in the industry is that socially vulnerable groups may be deprioritized if interventions are predicted to have more impact on less vulnerable groups. That is why evaluating AI-enable programs for unintended bias is essential to ensuring health equity across populations.
The Solution
Targeting the Right Patients at the Right Time With the Right Interventions Using AI
Recognizing the importance of mitigating unintended bias, Walgreens used an AI-powered program provided by AllazoHealth to target and personalize patient interventions. The program aimed to improve adherence to diabetes, hypertension, and statin medications.
The Results
AI Supported the Most Socially Vulnerable Patients More
This case study demonstrated that the AI was not biased because it naturally provided more support to socially vulnerable populations. Using AllazoHealth's AI, Walgreens' most socially vulnerable patients with hypertension were 23.2% more likely to be targeted for interventions than the least vulnerable and patients on statins were 25.9% more likely to be targeted for interventions than the least vulnerable.
Download this free case study to see how Walgreens effectively addressed health equity in patients that had the greatest risk of non-adherence and learn how they leveraged AI to personalize their program by tailoring every intervention for each individual. Fill out the form to get immediate access.
Fill out the form to download the case study