Summary
Using artificial intelligence, AllazoHealth has identified patient groups that need the most outreach to stay adherent to their maintenance medications during the COVID-19 pandemic.
COVID-19 and medication-use behaviors
The worldwide devastation and fear due to COVID-19 have had an impact on almost every aspect of our society, including medication-use behaviors. In the past few weeks, major healthcare organizations have made accommodations to allow patients access to their much-needed medications. That said, they need to be vigilant in monitoring how changes in access impact health care utilization, medication adherence, and use patterns with both populations and individual patients.
Surge in early prescription fills
AllazoHealth has reviewed a subset of our clients' data to understand the effects on medication access after the rapid spread of COVID-19 in the United States. Not surprisingly, the percentage of prescriptions filled more than a week before their due date more than doubled, increasing 18% in just one week.
Percent of Maintenance Medications Filled More Than 8 Days Early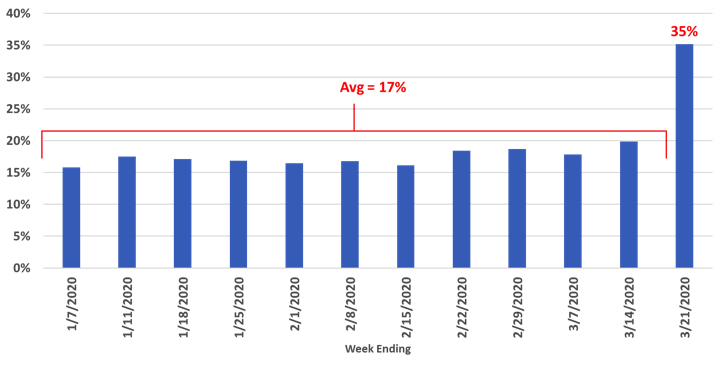 It's likely that the surge in early medication refills was motivated by patients' fears of being unable to access their medications for an undetermined period. In addition, several news reports have warned of potential drug shortages of COVID-19 and non COVID-19 therapies due to increases in pharmaceutical demand and supply chain disruptions.1
High-risk patients will need more support to stay adherent
In general, medication adherence improves when patients refill their maintenance medications early. We sought to better understand the potential implications of these early fills. At AllazoHealth, we leverage our artificial intelligence engine to make predictions about the likelihood that a patient will be adherent to their medications.
Percent of Maintenance Medications Filled Late after COVID-19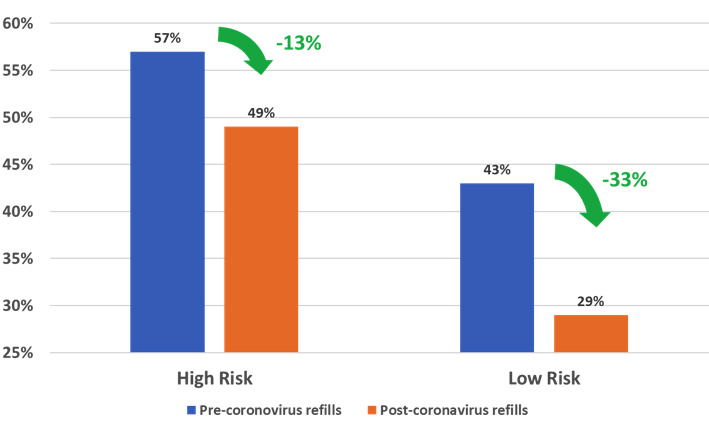 As shown in the chart above, for both higher-risk and lower-risk populations, fewer patients filled their prescriptions late. However, more low-risk patients made positive changes in their behavior: 33% fewer low-risk patients filled their prescriptions late, vs. 13% fewer high-risk patients.
The chart shows that the gap between high-risk and low-risk patients filling their medications late has increased after COVID-19:
Pre-COVID-19: 14%
Post-COVID-19: 20%
What does this mean for health plans and pharmacies? Despite the disruption caused by the COVID-19 pandemic, health plans and pharmacies must attempt to engage with the high-risk patients who need the most support. This is a critical time to help them remain adherent to their medications. Patient engagement can take many forms; for example, helping the patient sign up for a home delivery service or converting their next fill to a longer days-supply.
How we support patients with adherence challenges
With the many competing demands driven by the pandemic, health plans and pharmacies often need to prioritize which patients are targeted for adherence support. AllazoHealth's AI engine combines the prediction of a patient's risk for non-adherence with a prediction of their likelihood to respond to an engagement to help health plans and pharmacies maximize the impact of their adherence program.
To help support patients with adherence challenges in this disruptive time, AllazoHealth is offering to share our expertise with pharmacies, hospitals, pharmaceutical manufacturers and health insurance companies on how to identify high-risk patients, and which interventions are most effective.
About AllazoHealth
AllazoHealth uses artificial intelligence to make a positive impact on individual patient behavior. We optimize medication adherence and quality outcomes for pharmaceutical companies, payers, and pharmacies. Our AI engine targets individual patients with the right intervention, the right message, at the right time.
https://www.vox.com/2020/3/9/21163356/coronavirus-drug-shortage-potential-fda-china-india